Miracle Mile Closure & Consolidation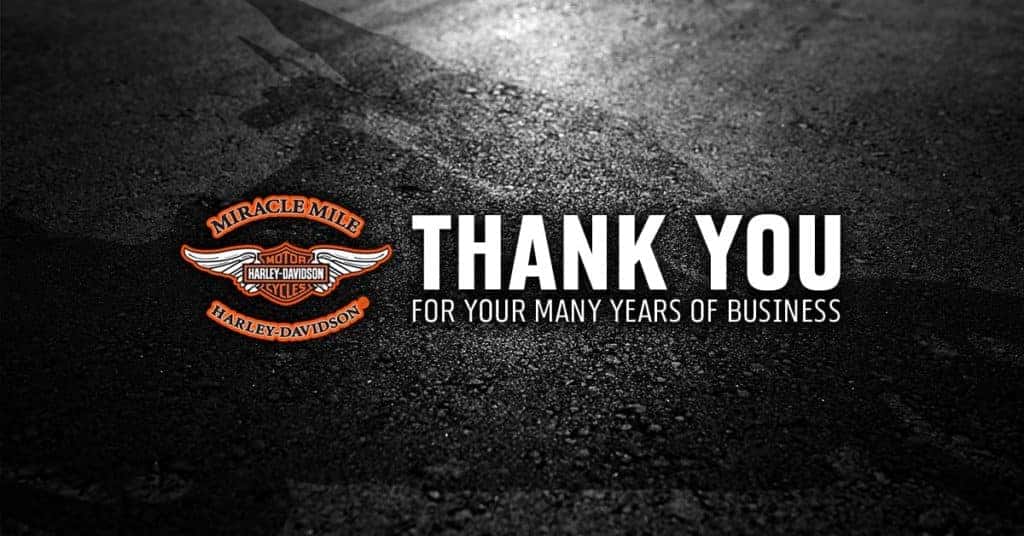 Dear H-D Community,
After careful consideration and with heavy hearts, we are announcing the closure of Miracle Mile Harley-Davidson. We understand that this closure may be a disappointment to members of our community.
Through the many trials of this past year and ongoing changes to consumer retail habits, the Harley-Davidson Motor Company has a strategic initiative to continuously optimize and evolve the dealer network, with the goal of providing the highest quality service to all members of the H-D community. Although the consolidation of Miracle Mile H-D remains in-line with the aims of this initiative, we recognize the concerns of loyal customers. It has been an absolute honor to serve the New York customer base and to have been a part of the Great Neck community. Our previous customers and new ones will receive the same high quality of service at any and all of the additional Harley-Davidson dealerships in New York or across the United States.
As is with any massive undertaking, we owe our accomplishments and progress to our amazing team and staff—who we would like to explicitly thank for their strength and dedication during this transitionary period.
We remain committed to our community and the H-D family. As part of the consolidation–and in an effort to keep as many people employed as possible–Harley-Davidson of New York City has assured us that they will support the initiative by offering to hire many Miracle Mile H-D employees. Additionally, H-D of New York City will honor all Miracle Mile H-D gift cards, have any remaining inventory for sale and complete any service work still in progress.
We would like to earnestly thank our customers and the lifelong friends we have made over the years–we'll see you on the open road!
Miracle Mile Harley-Davidson
---
---
Miracle Mile H-D Consolidation FAQs
What if I have a bike currently in service?
Miracle Mile H-D will be reaching out directly to all customers. We will be open for current service customers bike pickup during until Saturday 1/23. Anything not completed will be completed at NYC Harley-Davidson in Long Island City and available for pickup there.
What if I have a bike currently in winter storage?
We will continue to keep all winter storage bikes in storage and they will be available for pickup in the spring.
Are Gift Cards & Pre-Paid Maintenance still valid?
Miracle Mile H-D gift cards and Pre-Paid Maintenance programs will be honored at H-D of NYC in Long Island City, NY.
Where can we receive ongoing Service/Warranty work on H-D motorcycles?
NYC H-D 14 miles, Empire 16 miles, and Nassau County H-D 18 miles from Great Neck. Plus, there are other H-D dealerships in the greater NY area.
What part does NYC H-D play in the Miracle Mile H-D consolidation?
NYC H-D is assisting in collaboration with Harley-Davidson Motor Company to buy the inventory and assets of the dealership, including motorcycles, which will be available at NYC H-D. The main goal is to take care of the New York customer base for both the short term and for the next 100+ years. NYC H-D is under new ownership and will be expanding their staff and offerings.