Harley-Davidson Career Opportunities

New York City Harley-Davidson is one of the fastest-growing dealerships in New York and we need YOU!
As a PVM Enterprises dealership, we offer immediate career opportunities with rapid growth potential. PVM Enterprises is one of the largest, fastest-growing Harley-Davidson dealer groups in the country! Our dealerships are where we hang our helmets, spend time, and share our experiences and knowledge with others who have a love for Harley-Davidson motorcycles. Don't spend another day dreading a job you hate. Apply online today and start investing in a career you love.
View Open Positions & Apply Online
---
Great Money & More Fun!
We're smashing records in all departments! We are looking to add to our already talented team so we can continue to provide a premium customer experience that creates customers for life!
Benefits:
Aggressive Pay
Competitive Vacation Time
Comprehensive Paid Training
401K with Company Match
Medical, Dental, and Vision Insurance
Flexible Spending Account
Voluntary Term Life, Short, and Long-Term Disability
Accident, Critical Illness, and Cancer Insurance
Legal Shield and Identity Theft Shield
401K with Company Match
Employee Discounts
Ready to ride with us?
Join a winning team, apply online today:
View Open Positions & Apply Online
---
Change Your Career, Change Your Life!
If you don't want "just a job" and you're looking for a long-term career, then you have come to the right place! Just because you "haven't done it before" do not be afraid to take a chance and apply today. We are built on training our own and offer best-in-class mentorship opportunities for talented, hard-working individuals seeking to be a part of something bigger than themselves. We have a "promote from within culture" and many from our leadership team have worked their way up over time. An added benefit to belonging to one of the country's largest dealer groups is access to promotion opportunities not just here but at our sister stores in other areas of the country as well!
PVM Enterprises, a Harley-Davidson Dealer Group Family of Dealerships includes:
High Octane H-D – Billerica, Massachusetts (Boston)
Palm Beach H-D – West Palm Beach, Florida (South Florida)
Rockstar H-D – Fort Myers, Florida (Gulf Coast)
Motown H-D – Taylor, Michigan (Detroit)
Manchester H-D – Manchester, New Hampshire (New England)
Alligator Alley H-D – Sunrise, Florida (Fort Lauderdale)
Old Glory H-D – Laurel, Maryland (Baltimore/Washington DC)
Stars & Stripes H-D – Langhorne, Pennsylvania (Philadelphia)
New York City H-D – Long Island City, New York (Queens)
MotorCity H-D – Farmington Hills, Michigan (Detroit)
Example Career Pathways Below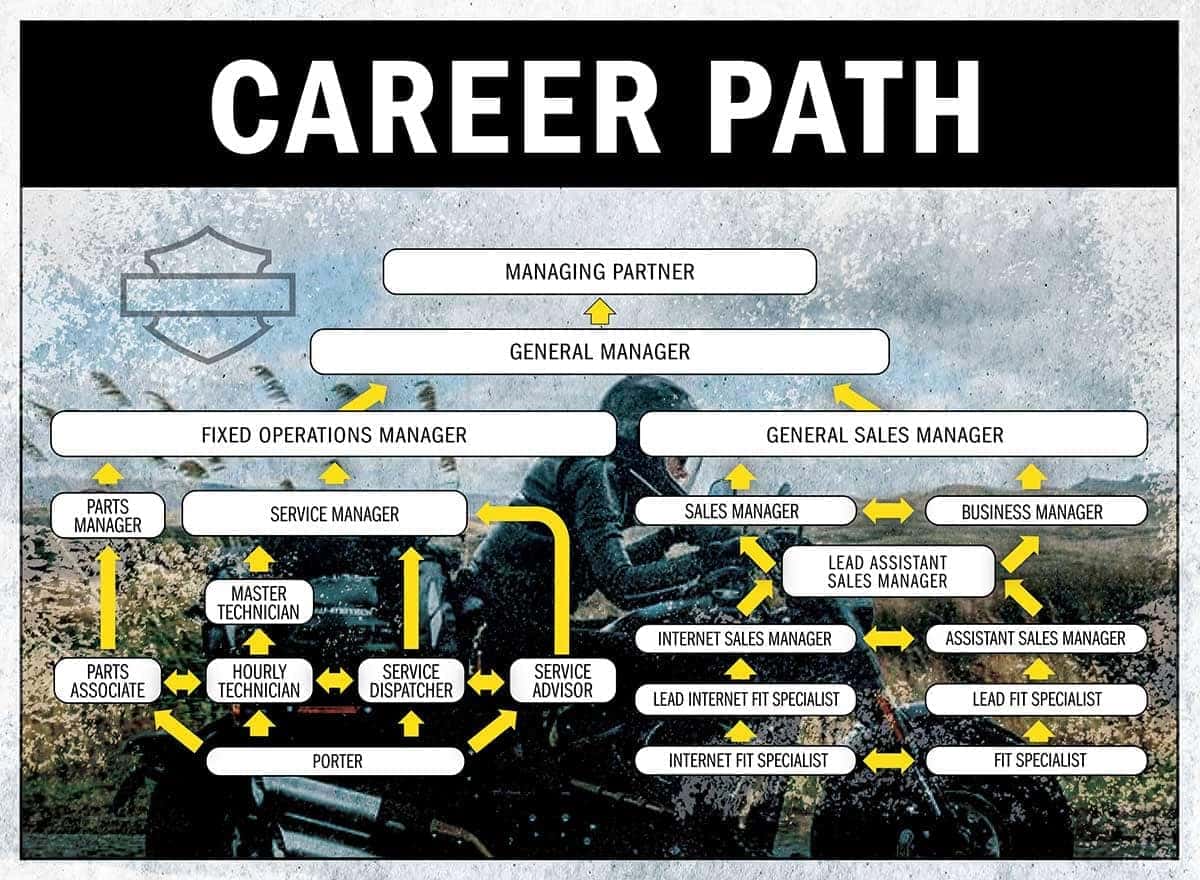 *This is not all-inclusive! We also have great opportunities in other areas of Dealership Operations with plenty of room to grow.